Jessica Beth Schwartz Scholarship Fund
A scholarship, celebrating the memory of Jessica Beth Schwartz, for college bound transplant recipients.
Jessica Beth Schwartz experienced 8½ additional years of life thanks to the gift of organ donation. Jessica's family and friends continue to honor her memory with a scholarship fund, available to college-bound transplant recipients.
Jessica received a heart transplant and always stayed focused on her goal of college education. This fund supports others who share that dream. It awards $2,500 annually to a transplant recipient who is a senior in high school, or is enrolled in a 2- or 4-year college, university or trade/technical school.
Funds for the scholarship have been raised through the annual event Jessie's Day – Give the Gift of Scholarship that celebrated its 17th anniversary in 2019. Donations to help support the scholarships can be made online here.
---
Students who apply must meet the following criteria:
Be an organ transplant recipient
Be a senior in high school or currently enrolled in a 2- or 4-year college, university, or trade/technical school
Reside in the eastern half of Pennsylvania, Southern New Jersey or Delaware
Be under the age of 25
Must use the funds for education at an accredited college, university, or trade/technical school certificate during the current academic year
How to apply
Write a short essay (200 words or less) that describes an educational initiative to promote organ and tissue donation and transplantation awareness to high school students
Write a personal statement (500 words or less) summarizing your transplant story and extracurricular and/or volunteer activities
Provide two letters of reference from a non-relative (eg. from your transplant center)
Provide current transcript and/or acceptance letter from your college, university, or trade/technical school
2020 Jessica Beth Schwartz Memorial Scholarship Application
2019 Scholarship Winners
Christine Casey – Trooper, PA
After being diagnosed with a rare heart condition in 7th grade and placed on the heart transplant list, simply going to school became a difficult task for Christine. But with dedication and help from her teachers she overcame those daily struggles. As her health declined, those teachers stepped up even more to make sure she didn't get left behind at school. Christine's condition left her unable to play the sports she enjoyed for years so she took up art. Her art teacher inspired her to apply her health journey to her artwork. During her senior year of high school, Christine was admitted to The Children's Hospital of Philadelphia to wait for a heart transplant and in December 2018 she received a life-saving heart transplant. She was able to return to school on April 1st to finish out her senior year and graduate on time with her classmates from Methacton High School.
"My art teachers helped me to portray my health condition so others could see and understand my life.
I decided to concentrate my artwork around my transplant to share my journey."
Christine plans to continue her passions for art as she studies Elementary Education at West Chester University this fall.
Cruz Mead – Dallastown, PA
At just five years old Cruz was diagnosed with dwarfism. Just two years later he began to go into renal failure during the spring of 2008. He began dialysis that fall and both of his parents were tested to see if they were a match to donate a kidney to their son. Both of Cruz's parents were a match and his mother went on to donate a kidney to him in February 2009. Since his transplant a decade ago, Cruz has spent his time playing the drums, fishing, hunting and developing a love for film. He has created a YouTube channel and started a business to use his skills to make money. He graduated from Dallastown Area High School in June 2019.
"I would love to use my talents in film to create a video for organ and tissue donation and transplantation awareness."
Cruz plans on following his passion as he attends film school at the Academy for Media Production in McSherrystown, PA.
Jacob Skrtich – Lock Haven, PA
Jacob was diagnosed with a genetic condition called Alpha I Antitrypsin Deficiency at birth. At just six years old he had developed cirrhosis and needed a liver transplant. Since receiving his transplant, Jacob has become an advocate for organ and tissue donation. He has spoken to health classes and his entire high school about the life-saving importance of registering to become an organ donor and he plans on continuing to advocate for Gift of Life Donor Program. He graduated from Central Mountain High School in June 2019.
"Too often, students do not understand organ donation. They have many misconceptions about it and they don't realize that people just like themselves are in need of transplants.
I like to show them that organ donation does work and I like to be the living proof that they need to convince them to become organ donors."
Jacob plans to attend Lock Haven University this fall as a Health Sciences, pre-PA major.
Michael Snyder – Hamilton, NJ
Michael was diagnosed as an infant with chronic kidney disease and has since had three kidney transplants, one from his mother and two from deceased donors. Since his first transplant at less than two years old, Michael and his parents have made increasing awareness for organ and tissue donation their mission. From being pushed in a stroller at his very first Gift of Life Donor Program's Donor Dash to competing at the Transplant Games of America, his family works to advocate for those who receive, are waiting or die waiting for the gift of life. He graduated from Steinert High School this past June.
"My goal is to continue to advocate for more donors because there are just too many people still waiting for their second chance at life.
I am fortunate to have received my gift from my donors and I would not be graduating high school and living my best life if it was not for them saying yes to organ donation."
Michael plans to attend Mercer County Community College this fall. He hopes to become a sports broadcaster and plans to find ways to include his advocacy for organ, tissue and cornea awareness.
Nicole (Nikki) Wolf – Lakewood, NJ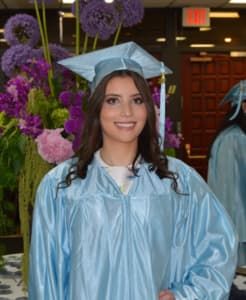 Nicole was diagnosed with Liver Cirrhosis at the age of seven. At just 13 years old she was placed on the waiting list for a liver transplant. After two false calls, in October 2018 Nicole got the call that led to her life-saving liver transplant. She may have missed her senior pictures but she was able to take those and make the most of the rest of her senior year when she returned to school. Her transplant gave her a chance to live without constant hospitalizations, insulin shots and infections. She graduated from Ilan High School in June.
"Looking back, just seven months ago, seems like a lifetime away. I have to credit my speedy recovery to my amazing team who has helped me with everything.
I couldn't be more grateful. Now, I'm taking myself and my new liver to college!!"
Nicole will begin studying to become a Nurse Practitioner at Ocean County Community College this fall.
Donate to the scholarship fund
Contribute to the memorial scholarship fund 
---